CONTACT
---


Email:spencer@wirex.com.au
Address:
251 Stirling St, Perth WA 6000 Australia
(by appointment only)

PO Box 8319
Perth Business Centre WA 6849 Australia
Licence ID number IA 22115
---
Crimestoppers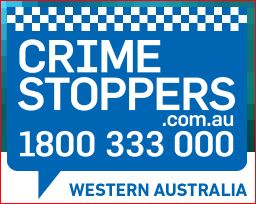 CRIME STOPPERS WA enables you to anonymously report crimes and suspicious behaviour.
---
MAKO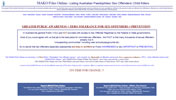 MAKO listing Paedophiles / Child Killers / Sex Offenders in Australia.
MAKO was Founded in 1997 and is an Australian Non profit Organisation.
---
Migration Fraud and Scams

Scams, ripoffs and frauds are becoming more and more commonplace. The WA ScamNet website profiles scams targeting Western Australians and provides information on different types of scams, how to recognise scams, and what to do.
A scam is an attempt to intentionally mislead people to steal money, property, or personal information, or to dishonestly obtain something else of value. Scams can occur in many forms–by post, email, telephone or on the internet. Some scams are easy to identify, while others might appear to be the real thing.
The information available on this page explains, how you can protect yourself from migration fraud and scams. People might give you false or misleading information in order to defraud you. We are aware that criminals around the world use scams about migration and visas as a way to steal money from people. Sometimes these criminals will use our name to make their story appear legitimate.
It is your responsibility to be vigilant and careful to avoid scams.
---
Pet Success March 2016:
Alpha Investigation Services were recently in the news after helping a Nedlands family find their stolen dog Jasmine.
DOG-NAPPING TWISTA four-month-old puppy, stolen from a Nedlands backyard has turned up on a cattle station, thousands of kilometres away in Queensland. And in a bizarre twist, the thief turned out to be the person who sold them the dog. #9News

Posted by 9 News Perth on Wednesday, February 24, 2016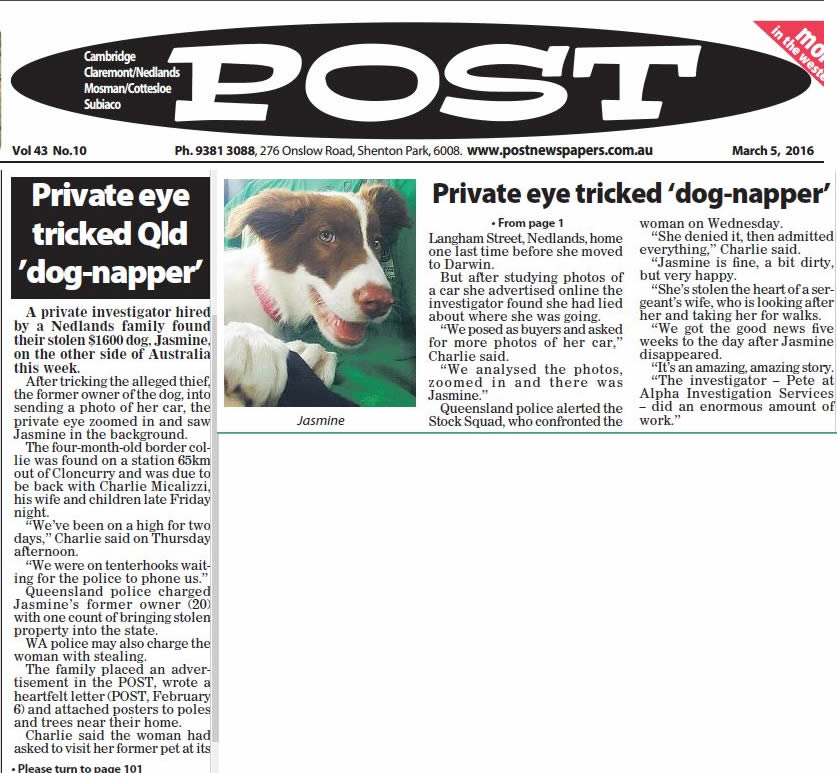 ---
Dating and Romance Scams October 2015:
Scammers take advantage of people looking for romantic partners, often via dating websites, apps or social media by pretending to be prospective companions. They play on emotional triggers to get you to provide money, gifts or personal details.
---
Immigration scam targets migrants April 2015:
SCAMwatch is warning consumers to be aware of calls from scammers claiming to be from the 'Department of Immigration' threatening you with deportation and demanding money.
The ACCC and the Department of Immigration and Border Protection (DIBP) have been getting reports of scammers claiming to be government officials. The scammers call migrants and temporary visa holders and threaten them with deportation supposedly because of problems with their immigration paperwork or visa status. Scammers are demanding up-front fees of around $1,000 to resubmit forms. These scam phone calls appear to be targeting people from India and Pakistan.
The ACCC has received 150 reports of this scam since February with more than $35,000 reported lost. Scammers may try to pressure you by calling repeatedly and harassing you, even threatening to send the police to your house - but if you give your money to a scammer you will never see it again. The DIBP has confirmed that it does not ask for any payment of fines or penalties by telephone.
Be on guard, if you receive a phone call from someone threatening you with deportation and asking you to pay a fee, hang up and do not respond.
If in doubt, don't use any contact details provided by the caller - look up the government department or organisation yourself in the phone book or online and phone or email them.
---
Don't be scammed
Alpha Investigation Services recommend that everyone keeps up to date on the latest scams at WA Scam Net provided by the Department of Commerce
---
House sale scam under investigation
The sale of a Karrinyup home without the owner's knowledge by a Nigerian scammer has prompted an investigation by five government agencies and a warning to real estate agents to beware of fraud.
---
Scammers take almost $17m from West Australians, mostly in romance scams
January 15, 2015
Scammers took almost $17 million from West Australians in 2014, with about two-thirds of that from romance scams, according to figures released by the State Government.
---
Demand for WA "debugging" services on the rise: security firms
October 2, 2014
Read more at www.watoday.com.au
A spokesman from Perth-based Alpha Investigation Services said "bugs" could be minute physical listening devices that lasted three or four days in situ or could be operated electronically through mobile phones to listen in remotely.
He said investigators used sophisticated equipment to uncover listening devices in homes, businesses and cars.
"Bugs aren't necessarily a small thing. You aren't looking at a spy situation like you see in the movies. Bugs can be on anybody's phone...They are not easily found and it's not necessarily a physical thing on the phone," he said.
He said the company had been called in to sweep a lawyer's office in the past, but conducted criminal checks on all clients if they requested a debugging service "just in case".